50 Litre pedal bins - What are the options?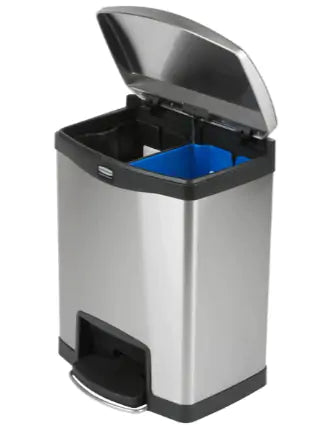 When it comes to workplace bins, pedal bins are a popular choice. These days, we're all a little more conscious of hygiene and pedal bins allow for hands-free waste disposal. But that's not the only reason they're a great buy. Here's why you need 50-litre pedal bins for your workplace.
Why are pedal bins so popular?
Pedal Bins are hygienic
Pedal bins are just about the most hygienic bin you can get. Disposing of your waste hands-free prevents germs from spreading which is especially important in food preparation areas and staff toilets.
Pedal bins are easier to clean (and keep clean)
No one relishes cleaning or emptying a bin. However, at least pedal bins make it easier and more hygienic thanks to many models having a removable inner bucket. Because the foot pedal allows hands-free waste disposal, there'll be less sticky fingerprints and rubbish residue on your shiny new bin.
Got your hands full? No problem
Got a pile of files in one hand and waste from lunch in the other? Being able to open the bin with a foot pedal means you don't have to struggle to open the lid and dispose of your waste.
They have a secure lid
Pedal bins have a secure lid. This helps stop odours from escaping and keeps rubbish out of sight.
Pedal bins are less noisy
Most pedal bins are soft-closing, which means less clunking when they close. That might seem like a small thing, but it's a godsend in a busy office when you need to concentrate.
Are 50 litre pedal bins the best size?
Size is everything when it comes to bins, especially in the office. 50 litre bins are a good size for most offices to fill and regularly empty. Any smaller, you'd end up with a constantly overflowing bin. Any larger, say 100 litres, will probably hold too much waste and start to smell. Definitely not what you want in a professional space where you might be welcoming clients. However, we have found that quite often between 50-60 is a good size for the vast majority of offices.
So our advice is...
When it comes to bin we very often know what we are talking about, we have years of experience and will always try and provide the best option for individual situations. Our Executive Office Recycling Bins are the perfect complement to any office environment. A glass, plastic and food waste bin for the kitchen and then a paper bin by the printer. Carrying out a thorough audit and finding the sources of waste is the start of reducing your waste.
We find that offices with nicer-looking waste facilities actually use them more and often have better recycling rates compared to alternatives that don't have the same aesthetics. The 60 litre capacity makes it perfect for any office big or small and the fully customisable graphics can make sure everyone knows what goes in what bin no matter if they work there daily or are just a visitor. The open aperture actually makes it easier to dispose of waste than a pedal bin and will keep your office clean and tidy.
Want to seamlessly separate different waste streams in the office? This bin helps you improve your green credentials and it looks good doing it. For more interesting articles on bins and waste management, check out the rest of our blog.