Appeal for Volunteers for the 25th Annual Great British Beach Clean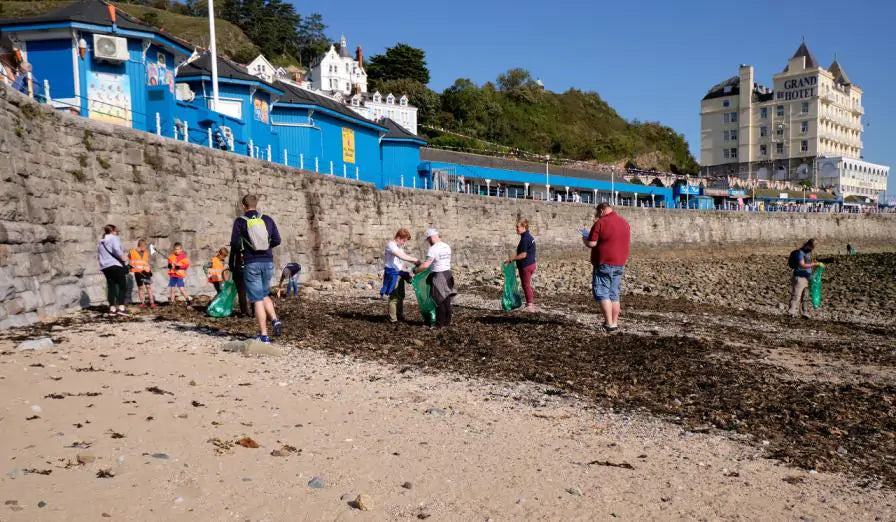 Appeal for Volunteers for the 25th Annual Great British Beach Clean
The Marine Conservation Society (MCS), is appealing for thousands of volunteers to clean up the UK's beaches as part of its 25th anniversary Great British Beach Clean event which runs from 14th to 17th September.
The charity is encouraging people to join in by reminding them that being by the sea makes you feel better and it's a great day out.
The Great British Beach Clean improves the appearance of hundreds of beaches, and volunteers record the litter they find. The data helps the MSC to lobby for policy and behaviour changes around marine litter.
Achievements so far
The achievements they can claim to have been part of in the last 25 years are staggering and include the 5p carrier bag charge, a ban on microbeads in wash-off products, consultations on a tax on plastic, a reduction in the use of plastic straws, and the banning of lantern and balloon releases.
At last year's Great British Beach Clean, 7,000 volunteers picked up record amounts of litter from 339 UK beaches, which amounts to 718 bits of rubbish for every 100 metres of beach and 10% more rubbish than the 2016 event. Even though beach litter has been rising over the last few decades, it's not all bad news, because the number of single-use plastic bags found on beaches halved from 2015-16, almost certainly as a result of the introduction of the 5p charge.
The problem of 'on the go' litter
Last year, 'on the go' items made up 20% of all litter found on the UK's beaches, most of which is discarded by the public. 'On the go' litter includes plastic cups, foil wrappers, straws, sandwich packets, lolly sticks, plastic bottles, drinks cans, glass bottles, lids and stirrers. The MSC has attributed the figures to the lazy habits of a minority who dump their rubbish instead of looking for a bin or taking it home with them.
The MSC say that the impact of the Great British Beach Clean shouldn't be underestimated. In previous years, they've raised awareness about dog poo bags and baby wipes ending up on beaches, and the numbers have then dropped as a result. In fact, their 'Wet Wipes Turn Nasty' campaign has resulted in better labelling of wipes and removal of plastic from flushable wipes. Now wipes also need to pass industry standards for water cleanliness.
Get involved
You might think it's hard work, but cleaning and surveying a beach only takes a few hours. Every beach has a coordinator who explains to volunteers how to fill in a data form, then all people have to do is grab a litter picker and bin bag, then they're off!
The MSC say that beach litter is a serious problem, but the solution is in our hands. They want the 25th Great British Beach Clean weekend to be the biggest ever, and they have a real chance of achieving their aim, given the increased awareness of the problem of plastic pollution because of the screening of Blue Planet II.
The event in England is sponsored by Waitrose who say that it's a great opportunity to reduce plastic pollution. The company is committed to making their packaging widely recyclable, reusable, or compostable by 2025. It is encouraging customers and employees to sign up or organise local beach cleans themselves.
Sign up to a clean near you at www.mcsuk.org/greatbritishbeachclean