Creating a Home Recycling Station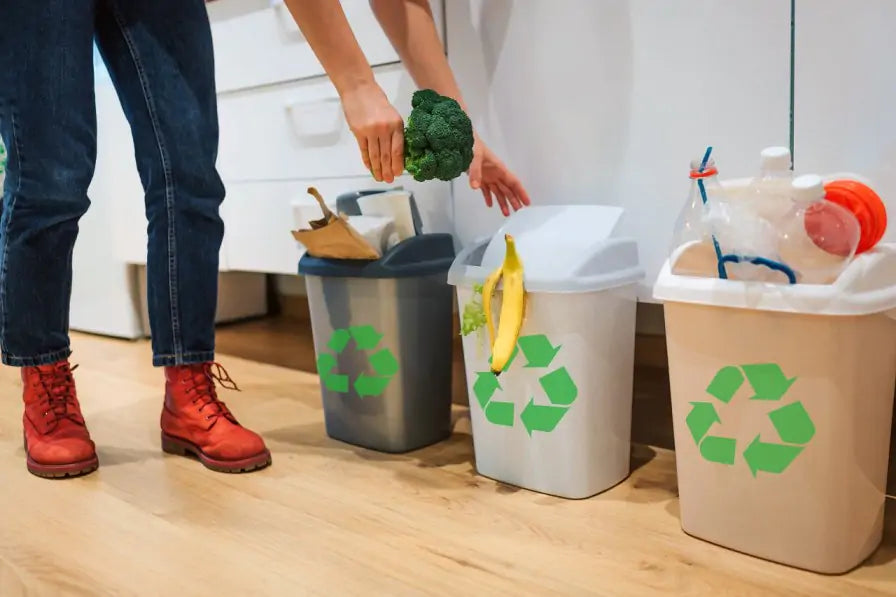 Going Green: Creating a Home Recycling Station
In a world where we are all encouraged to Reduce, Reuse and Recycle, many households across the UK have taken the Government's waste and recycling initiative one-step further by creating a Home Recycling Station in a bid to 'Go Green' and do their bit for the environment.
Home recycling is easy, and once you have learnt how to separate your household waste correctly, it becomes a way of life, but it has taken quite some time for the recycling trend to catch on here in the UK, especially when compared to other countries in the European Union such as Germany, Belgium and Austria.
According to the European Environment Agency, the UK recycled 46% of its municipal waste in 2015, an increase from 39% in 2010, but we are still way behind when it comes to our European neighbours, with Germany recycling 64% of waste, Austria recycling 59% of waste, and Belgium recycling 57% of all its municipal waste last year. 
The reason for this is simple, in the above-mentioned countries, recycling is not a choice but an obligation, and as such, it is made incredibly simple.  In Austria, for example, there are recycling stations at almost every supermarket and in every town and village across the country, so you can dispose of your recyclables (glass, paper, and metals) when you collect your weekly shop. Plastics are collected at home in yellow recycling bags, which are then picked up by the local council every 10 weeks, and food waste has to be composted.
It may sound like a chore, but these countries have successfully established a culture of recycling in just a short period of time, and it just goes to show that with the right infrastructure, we can encourage the general public to dispose of their waste responsibly, and stop wasting valuable resources by sending it to the landfill.
While the UK is certainly making progress with its 'Zero Waste' policies, the recycling infrastructure is not quite there yet in many areas across the country, and so many environment-conscious homeowners are taking things in to their own hands by creating their very own recycling station at home, where they can implement the 3 R's and encourage a new generation recycler's to help save the planet.
The Benefits of a Home Recycling Station
When it comes to listing the benefits of a home recycling station, the list is a long one, but it is the environmental benefits that stand out the most. Recycling conserves natural resources, saves energy, reduces greenhouse gas emissions, prevents pollution, and reduces the amount of waste we send to landfills, but most importantly of all, recycling can help us sustain the environment for future generations.
Climate change and global warming is no longer something we can simply ignore or choose not to believe in, it is a very real and critical issue that our planet is facing, and by simply separating our household waste and disposing of it in a responsible manner, we can make a huge difference, and it all starts at home.
Creating a Home Recycling Station
Creating a Home Recycling Station is relatively easy, you simply need to decide where you would like to put it, and how many recycling bins or boxes you need. You could put your recycling station in the garage, shed or basement, or you could leave it outside, but it is important that it is protected from the Great British weather and the local wildlife if you are to avoid a garden littered with recyclable waste, and so planning is advised.
Once you have decided on the location of your home recycling station, it is time to look at recycling boxes and bins. There is a huge variety out there, and they come in just about every shape and size to complement every home, so you many need to shop around to find the perfect recycling bins for your home centre.
What Recycling Bins Should You Choose for Your Home Recycling Station?
There are four main types of recycling bins available, those made from weather-resistant plastics such as polyethylene, robust cardboard options that are 100% recyclable after use, premium quality aluminium or steel recycling bins, and lightweight sackholder bins, which, as the name would suggest, support recycling sacks from a metal or plastic frame.
While they all work well, some are only suitable for indoor environments, and so choosing the right recycling bins for your home will depend on the location of your recycling station.
Sackholder Recycling Bins: Ideal for smaller homes with minimal amounts of recyclable waste, Sackholder Recycling Bins are lightweight, portable, and in many instances, suitable for both indoor and outdoor use.  A simple design whereby the recycling bag is suspended from a metal or plastic frame, they generally have a lid or recycling aperture, and they are equipped with a bag retention ring to keep the sack firmly in place. 
It is essential that good quality recycling sacks are used with this type of recycling bin to prevent leakages, and frequent changing is required to limit unpleasant odours.
Cardboard Recycling Bins: Cardboard recycling bins are only suitable for indoor use, and it is important that all yoghurt pots, aluminium cans, bottles etc. are dry before they are deposited in the bin to prevent the bottom from becoming damp.
While they are often the cheaper option, you may find that they do not last as long as plastic or metal recycling bins, and so if you are looking for a long-term solution, they may not be the best choice.
Plastic Recycling Bins: Practical and reliable, plastic recycling bins are, perhaps, the most versatile choice for any home recycling station.  Made from water-resistant plastics, they can be washed down with antibacterial detergents, used indoors and out, and they will generally last for years, even decades, with minimal maintenance.
Of course, many plastics are not recyclable, and so if you are conscious about the environment, look for those bins made from recyclable plastics that can be disposed of responsibly when the time comes to replace them.
Metal Recycling Bins: Aesthetically pleasing and requiring virtually no maintenance, metal recycling bins, usually made from steel or aluminium, remains a popular choice for homeowners with an indoor recycling bin station.
A premium option with a price tag to match, metal recycling bins can be expensive, but they are made to last, and models such as the Hailo Trento Oko Trio 33 make a wise investment for family homes.
No Space? No Problem!
If you would love to create a home recycling station but are limited on floor space, you will be pleased to know that there are some great stackable recycling bins and boxes available. Cleverly designed to stack on top of each other, while still providing easy access, they are ideal for use space restricted areas such as cupboards, patios, balconies, and small garden sheds.
What You Should Be Recycling
While we can recycle almost everything these days, there are four main items that we are encouraged to recycle (in addition to composting food waste) and they are Glass, Paper, Plastics and Metals. 
Recycling Glass: You only have to look through your kitchen cupboards to see that we use a huge amount of glass each day.  Wine bottles, oil and vinegar bottles, jam jars, and even fancy deserts are now sold in glass containers, and according to recycling-guide.org.uk, the average UK household uses an average of 500 glass jars and bottles each year.
Fortunately, glass is easily recycled and provided it ends up in the right place, it can be melted down and remoulded into new glass objects such as wine glasses and lightbulbs.  If possible, the glass should be sorted into colours at the recycling plant.
Recycling Metal: It takes less energy to recycle metals than it does to extract new materials, and so it is vital that we recycle our aluminium cans and metal waste. While it is not an easy process, aluminium cans can be recycled and ready to use in less than six weeks, and you only have to look at the supermarket shelves to see just how many cans we need.
It is estimated that we produce over 24,000,000 tonnes of aluminium each year and that if we recycled all the cans in the UK, we would need 14 million fewer bins.
Recycling Paper: Paper is one of a few materials that can be recycled several times before it becomes unusable, and so it is essential that we recycle our newspapers, magazines, and paper packaging.  As with metals, it requires less energy to recycle paper than it does to make new paper, and to put it into some kind of perspective, it takes 24 trees to make just one tonne of newspaper.
Recycling Plastic: If there is one item that needs to be recycled more than any other, it would have to be plastic. According to theoceancleanup.com, there is at least 5.25 trillion pieces of plastic in our oceans at this very moment, and we are currently adding a further 8 million tonnes each year.
On average, we use over 275,000 tonnes of plastic in the UK each year, much of which is used to make plastic bottles and food packaging.  Plastic is difficult to recycle, but when you consider that it can take up to 500 years to decompose, recycling most definitely seems like the better option!
A home recycling station is a step forward in the right direction when it comes to saving the planet, and if every household in the UK committed to creating their own, the future will be a whole lot brighter, or should that be 'greener', for future generations.