Kitten Rescued After Getting Stuck in Waste Bin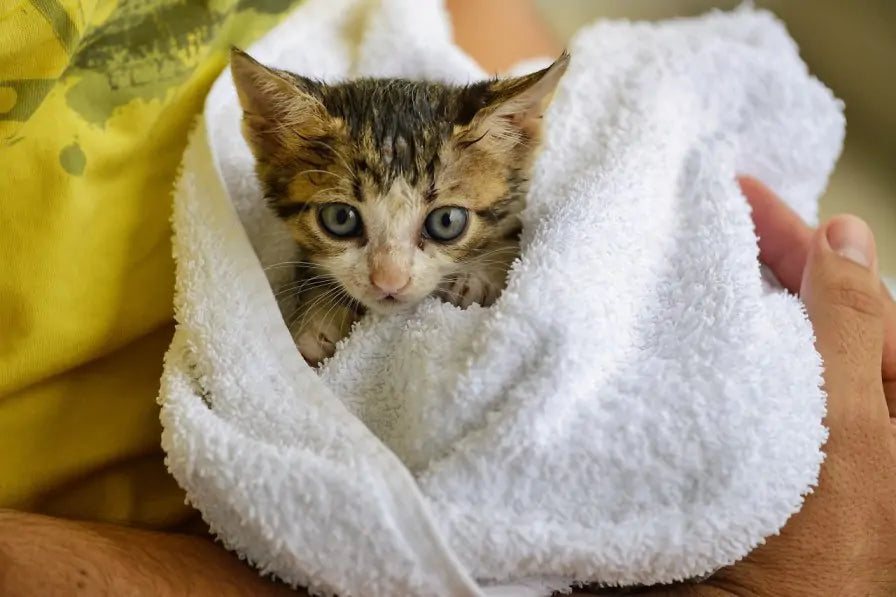 Kitten Rescued After Getting Stuck in Waste Bin

We dispose of our rubbish into our recycling and waste bin son a daily basis, however, you'd probably be surprised if you threw litter in your bin one morning to find a cute kitten gazing back at you. On 9th January 2017, a member of the public heard a communal rubbish bin meowing back at them and knew there was something just not quite right…
The unnamed passer-by phoned the RSPCA and animal officer Cara Gibbon came to the kitty's rescue to check out what was happening. Gibbon claims that a tiny kitten was stuck at the bottom of a communal bin, with its head forced into a gap at the bottom. She claimed he would never have managed to set himself free without professional help. There had been many days' worth of rubbish piled on top of him and he had no form of escape. She said "We don't know how long the poor kitten had been there for, but rubbish had been piled on top of him and he was clearly distressed. I can only assume that there was some food in there which he could smell, which led to him getting trapped like this".

Gibbon knew immediately that the help of the fire service would be needed and they soon made their way to the scene, managing to set the trapped cat free. They used a blade to cut the plastic and bent back the steel to free his head. Luckily, the small kitten wasn't injured, however, was thought to be a stray due to not having a collar or microchip. Don't fret though – the RSPCA took good care of him, named him Dusty and were on the lookout to give him a new home swiftly.

Cara claims there was an obvious lesson to be learnt from the unfortunate mishap and urges people to keep a tight lid on their bins to prevent this type of incident happening again. Dusty was lucky, but this may not be the case for other trapped animals who make their way into rubbish or recycling bins. Due to many people only disposing of their rubbish into their wheelie bins on a weekly or fortnightly basis, cases such as these can go amiss. If you notice any small gaps in the lid of your bin, always aim to close it as tightly shut as possible. Animals would tend to make their way into bins due to the smell of food, therefore ensure you're 100% covered from making a similar mistake.

If you notice any similar cases, you can call the RSPCA on 03001234 999.