Reduce Fire Risk in The Workplace with Self-Extinguishing Bins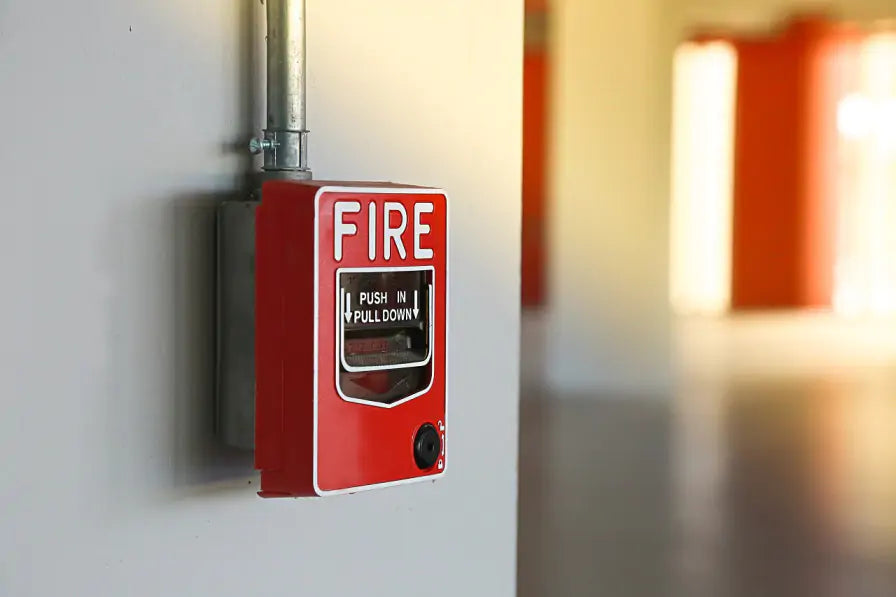 Reduce Fire Risk in The Office Workplace with Self-Extinguishing Bins
At this time of year, along come the dark nights, Halloween, and Bonfire Night, and there seems to be a headline about an arson incident almost every day.
As you can imagine, a bin full of waste is rich pickings for a would-be vandal or arsonist, and fire is a real risk that businesses can't ignore. There are around 22,000 fires every year in non-domestic properties and people and property are at risk. Businesses need to have measures in place to minimise fire risk, and managing waste properly is the key.
Reducing fire risk in your business
Don't let waste pile up. The more material there is in your bins, the more potential fuel there is for a fire.
Always compact waste to reduce the volume and create more space in your bins.
Never let the waste build up so that you can't close your bins
Don't obstruct fire exits with waste materials
When it comes to office bins, opt for units made of materials that won't literally add fuel to the fire. Metal bins are a good choice, as are our self-extinguishing bins.
Restrict access to waste storage areas and keep them as secure as possible so unauthorised people can't gain access to your bins. You might want to ramp up security measures around your bin store, such as installing CCTV or motion-sensitive lighting. This may deter any intruders.
Don't store your bins near buildings in case you do have a fire
If your business deals with large volumes of paper, cardboard, or plastic think about using a compactor rather than having a skip or similar that's too easily accessible. It will take up less space and reduce your waste management costs as fewer collections are needed.
But it's not always about arsonists…
Fire risk can increase if businesses don't follow fire safety rules and good housekeeping practices. Here are some reminders on how you can avoid workplace fires on your premises.
Don't overload electrical outlets and repair any damaged wires or cables.
Make sure all electrical equipment is PAT tested and all other machinery is well-maintained and regularly serviced.
Keep combustible materials and waste away from electrical equipment or machinery where an errant spark could start a fire.
Make sure you have fire extinguishers and fire blankets in place, and people know how to use them.
Make sure fire safety training is carried out annually and regular fire drills are held so people know what to do in an emergency.
Invest in cigarette bins for smoking areas to minimise the risk of fire from a discarded cigarette that hasn't been properly extinguished.
How our litter bins can help
We know that fire safety is a real concern in any workplace, especially in high-risk workplaces like industrial workshops. That's why we wanted to showcase some of our fire-resistant products that will help you reduce the risk of fire on your premises.
Our Heavy Duty Self-Extinguishing Waste Bin is made from powder-coated steel and has a total capacity of 60 litres. It has integrated handles to make it easier to empty and clean, and most importantly, it's designed to cut off the oxygen supply in the event of a fire. It will stop flames in their tracks and extinguish them completely. This bin comes in a choice of 2 colours.
Our 80 Litre Self-Extinguishing Waste Paper Bin is cleverly designed to shut off the oxygen supply in the event of a fire, and it extinguishes flames before they get out of hand.
It's made from tough powder-coated steel and comes with a lift-off lid for easy changing and emptying. Its wide aperture makes it easy to empty even in areas where space is restricted. This bin is wall-mountable and is an ideal choice for offices and industrial workplaces alike. It's available in a choice of 8 colours so it will complement any workplace.
Our Powder Coated Steel Safety Bin is great for home and commercial offices alike. It's been tested, approved, and certified to TUV/GS standards, and it's made from premium quality powder-coated steel. It has a seamless liquid-tight shell, a removable lid, and a large aperture for easy waste disposal.
This bin is designed to put out flames before they get out of hand, making it the ideal choice for busy offices where large volumes of paper waste are stored and collected. It's available in 13 and 20-litre options.
Our Rubbermaid Smoker's Pole is a modern cigarette bin for space-restricted areas and a must for reducing fire risk in your designated smoking area. It's made from hard-wearing powder-coated aluminium, it's weather-resistant and fire retardant, and it features a self-extinguishing pillar to prevent fire hazards in public areas.
It's also supplied with a weighted foot base for added stability in high-traffic areas, and it is incredibly easy to empty and clean.  All you need to do is twist the upper part of the pole to remove it and access the inner liner.
If you'd like more information on our fire-resistant waste receptacles, contact our expert sales team who'll be happy to help. Contact us on 01684 292727 or at sales@litterbins.co.uk