The World's Greenest Cities: Madrid, Spain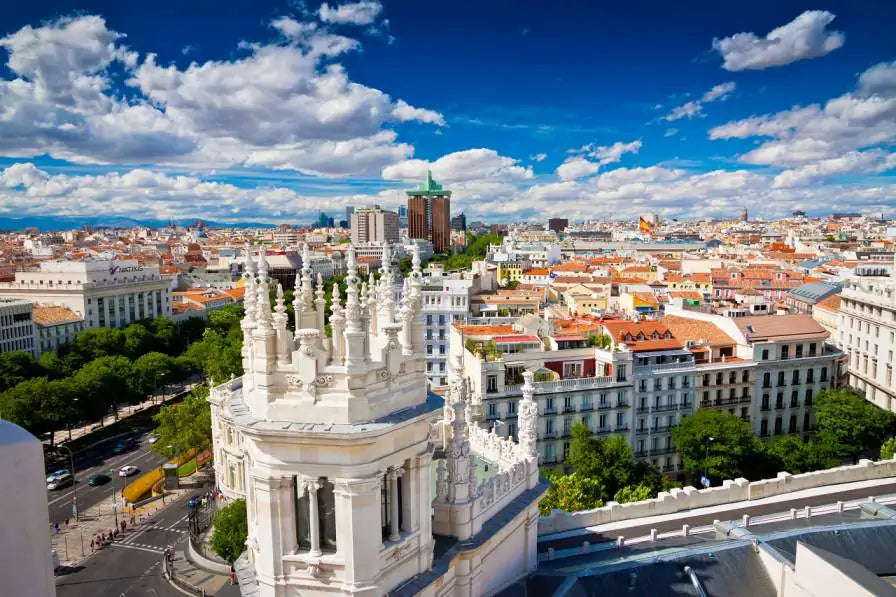 The World's Greenest Cities: Madrid, Spain
While many of us dream of having a climate like Spain, the reality is not so great. Madrid in the south of the country already gets plenty of hot weather, and figures show that because of climate change, it's getting hotter. In fact, if the current trends continue, by 2050, there will be 20% more 'unusually hot' days and 20% less rainfall.
So what is Madrid's plan to combat climate change? Here's how Madrid is transforming itself into one of the world's greenest cities.
It's become a green city-literally
Not only does Madrid have green space at every turn, the municipal government has a strategic plan to use plant power to tackle climate change. As part of the "Strategic Plan of Green Areas, Trees and Biodiversity of the City of Madrid," the city's parks will be expanded, 22 new urban gardens will be created, vacant land will be transformed into community gardens, and trees will be planted along the banks of the Manzanares River and along the streets in the centre of Madrid. Plants not only keep the city cool, they absorb carbon and other nasties from the air.
Green roofs will be planted on buildings, and plant beds will be put in on paved squares to absorb precious rainwater. There will even be a city funded 'urban gardening' school that eco-conscious residents will be able to attend.
All of these will combine to make Madrid a cooler and cleaner place to live, work, and visit.
Vehicles are banned in key areas
Air pollution in Madrid often exceeds the prescribed EU limits, especially for nitrogen oxide. The authorities have set an ambitious goal to reduce nitrogen oxide levels by 23% this year and to this end, they've banned all diesel cars from the city centre. There were already bans in place in some parts of the city for non-resident vehicles, but this goes much further. The intention is to both reduce air pollution and make the city more pedestrian- friendly. The city says it wants to put 'people, rather than the internal combustion engine, at the heart of transport policy.'
There are plans to take 58,000 square feet of space from car lanes and turn them into pedestrian walkways, as well as introducing more lanes for cyclists.
More green transport options are being introduced
It's hoped that the introduction of more green transport options will encourage people to leave their cars at home. The authorities are doubling the number of bikeshare bikes that people can use to get around as well as installing more docking stations around the city. If residents don't fancy cycling, they can hop on one of Madrid's 78 electric-powered buses.
Municipal buildings will use renewable energy only
Larger municipal buildings are set to be fitted with solar panels, which makes sense in a country with one of the world's sunniest climates. All municipal buildings are being converted to renewable energy only, as part of the authorities' plan to reverse the climate change juggernaut.