Why Your Business Needs Sanitary Bins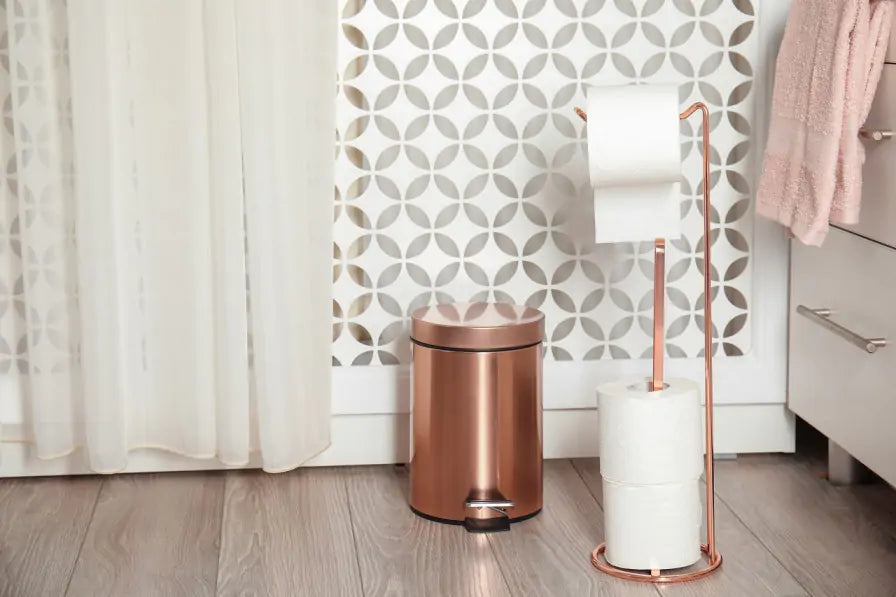 Why Your Business Needs Sanitary Bins
Did you know that if you have female staff, customers, or visitors, you legally have to provide sanitary disposal bins? As well as having a duty of care under The Workplace (Health, Safety and Welfare) Regulations 1992, there are strict regulations around the disposal of sanitary waste, which is covered by The Water Industries Act 1991 and The Environmental Protection Act 1990.
Sanitary waste has to be disposed of by a licensed waste carrier, so getting one of your employees to throw it in with the general waste just won't do. There has to be a comprehensive paper trail too, without which, your business is breaking the law.
Why you can't dispose of sanitary waste any old way
Sanitary products like towels and tampons don't break down, so if you flush them down the toilet, they can end up polluting the water system or end up on our beaches. Not exactly what you would like to come across on a day at the seaside. Some people flush these kinds of products down the toilet out of ignorance, but if you don't provide them with a bin, they might feel like they have no other choice.
Another problem that sanitary waste can cause is sewer and drain blockages. If the toilets on your premises are blocked and it causes a backflow, you're left with a smelly and expensive problem to clear up.
Our sanitary bins
Sanitary waste has to be disposed of in a safe and environmentally friendly way, that also ensures that your business complies with regulations. Our sanitary bins are the perfect hygienic choice for any workplace. Here are some of the products we're proud of.
Our EKO Belle Deluxe Pedal Sanitary Bin is the number one choice for modern hotels and contemporary public washrooms. It's made from matt stainless steel, it has an integrated foot pedal mechanism so you can dispose of your waste hands-free, a plastic inner liner to for easy emptying and cleaning, and two side handles for easy manoeuvrability.
The bin is finished with a fingerprint-proof coating to keep it looking its best. This is a great looking, high-quality bin. It's available in two finishes, stainless steel or black and stainless steel, it has a total capacity of 5 litres, and a timeless design that will never go out of style and that will only enhance your premises.
Our EKO Artistic Pedal Sanitary Bin is the epitome of a designer bin, and it looks the part whether you place it in a family bathroom or a public washroom. It's made from stainless steel and has fingerprint-proof technology to prevent unsightly marks. It features an integrated foot pedal for hands-free disposal, and a plastic inner liner for easy cleaning and emptying.
This is the bin for you if you want to complement a modern interior. It has a capacity of 5 litres, and it has a soft-closing lid mechanism that makes sure the lid closes quickly to prevent any unpleasant odours from escaping.
Our Rubbermaid Step On Round Sanitary Bin with liner has a generous capacity of 17 litres and a range of features that makes it the perfect bin for completely hygienic waste disposal. It's made from heavy duty plastic, and features an integrated foot pedal, a removable inner liner, an overlapping lid to prevent unpleasant odours from escaping, and an integrated carry handle to make emptying and cleaning a breeze. The bin has a classic white finish and it can easily be kept clean with antibacterial detergents.
When you hear the name Brabantia, you know you can expect quality. They are one of the leading quality bin manufacturers in Europe, and our Brabantia Touch Sanitary Bin is a very popular choice for public conveniences across the country.
It's made from the finest stainless steel, and it's equipped with an innovative lid mechanism that opens and closes with the lightest touch. It's the perfect hygienic choice for professional working environments and busy public areas. It has a plastic inner bucket for easy emptying and cleaning, a generous capacity of 10 litres, and it can be wall mounted to virtually any flush wall surface.
Our Sanitary Push Lid Bin is suitable for use in areas where high levels of hygiene are a must, such as universities, medical centres, public washroom, and busy workplaces. It's made from powder-coated stainless steel, so it's fire retardant and very resistant to rust and corrosion.
The bin has a lift-off lid for quick and easy waste disposal, and it has a very generous capacity of 50 litres. It has a lightweight and compact design, and it can be used as a free-standing unit or wall-mounted.
Our Hygi-Top Sanitary Waste Bin has a unique closing mechanism to make sure it closes quickly and securely after each use to prevent unpleasant odours. It's a perfect daily use bin for public bathrooms, changing facilities, and medical centres, and it's available in matt stainless steel or powder-coated aluminium. It's fire-resistant, it won't corrode, and it has a generous capacity of 18 litres. Its anti-skid feet keep it stable on slippery floor surfaces. Don't have much floor space? No problem; this bin can be wall-mounted.
If you'd like to find out more about our huge range of high-quality bins, contact our expert sales team on 01684 292727 or at sales@litterbins.co.uk