Best Rubbish Stories of 2021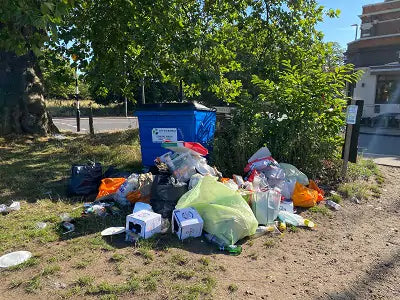 This year, the focus was firmly on climate-changing and protecting the environment. This means there's been no shortage of stories about rubbish. Here are some of the best rubbish stories of 2021.
One of the best rubbish stories that make you feel good.
Amid all the climate change doom and gloom, there's finally a bit of good news. The results of the Marine Conservation Society's Great British Beach Clean are in. They've revealed that the amount of waste on UK beaches is falling.
During the beach clean in September, over 6,000 volunteers cleared litter from 34 miles of UK beaches. On average, the volunteers found 385 pieces of litter per 100m of beach. This is down from 558 in 2019. The plastic bag charge and cotton bud ban have had an effect on the type of litter found. There were only three plastic bags per 100m of beach this year, down from 13 in 2013. Plastic cotton buds are now not even in the top 10 list of most common items that are left on UK beaches. The pandemic has also had an effect on the type and amount of litter found. Noticeably less single-use 'lunchtime plastic' was present. However, there was PPE litter on one in three beaches.
A spokesperson for DEFRA said it is great to see that government policies are having an impact on reducing beach litter. However, they acknowledged that there was more to do. There is always more to be done, but that doesn't stop this from being one of the best rubbish stories of 2021.
The one where the litterbug got broken up with
We think that there's a moral to this story. Former Coronation Street actress Nicola Thorp had been dating a guy for a few months. They walked hand in hand through the streets of Manchester, eating ice cream on a summer's day. Everything was blissful. Until he stopped in his tracks, went in for a kiss, and dropped his ice cream wrapper on the ground. There was a litter bin only a few metres away. She told him what she thought, in no uncertain terms. He argued that most litter ends up in landfills anyway. He pleaded that he was only 'cutting out the middleman.' But it was a dealbreaker.
The litterbug got dumped. Did his bad attitude towards litter cost him the love of his life? We'll never know. But we think that the reason this is one of the best rubbish stories is that someone called him out. According to a survey by Keep Britain Tidy, social pressure and embarrassment can stop people from littering. We're not advocating starting a fight over a crisp packet. However, maybe offering a very British 'excuse me, I think you've dropped something' might make someone think again. 
One of the best rubbish stories that are just a bit bizarre
A student in Manchester got a £150 fine for littering. His crime? He put a piece of tortilla down on the ground for a hungry pigeon. An eagle-eyed 3GS enforcement officer pounced within seconds and served him with a fine. The University of Salford student said he had no idea that feeding a pigeon was littering. He complained that he was 'upset and struggling financially' after receiving the fine. However, the council maintains that it's valid.
Manchester City Council said it doesn't want people feeding pigeons and added that wardens would carry on issuing fines.
We hope you've enjoyed our choice of the best rubbish stories of 2021. We have no doubt that 2022 will have plenty more in store! For more interesting articles on all things litter, check out the rest of our blog.