Challenge Yourself to a Zero Waste BBQ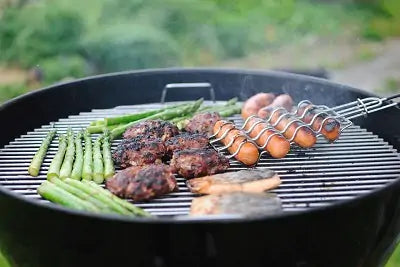 We all love a BBQ, but do you often get that nagging guilt that they aren't that great for the environment? Well feel guilty no more, it is possible to have a Zero Waste BBQ by making some simple swaps. Are you ready to challenge yourself to a Zero Waste BBQ?
Top tips for a Zero Waste BBQ
Ditch the single-use cutlery
Single-use items create a lot of waste and plastic is not great for the planet. So why not invest in some reusable bamboo cutlery? It's easy to clean, free from toxins, and is a much better option for the environment.
Use reusable plates and bowls
Just as with single-use cutlery, paper plates aren't the best choice if you want to have an Eco-BBQ. You might not like the idea of having to wash the extra dishes, but use ceramic or reusable plates and bowls instead. You can even ask family and friends to bring a dish (or help with the washing up!)
Serve more veggie options at your Zero Waste BBQ
Since meat production is one of the biggest contributors to global warming, serving less at your BBQ will make for a greener event. So serve plenty of delicious salads, grilled vegetable skewers, and bean burgers. However, if the meat lovers grumble, have a small amount of organic locally-sourced meat available for them.
Mix up some drinks in jugs and pitchers
Drinks bottles and cans can create a lot of waste.  While they are recyclable, it's better to limit them if you want to reduce your waste in the first place. Make up some fruity summer cocktails or punch in a pitcher for a truly zero waste BBQ.
Whip up your own condiments and sauces
A BBQ isn't a BBQ without all your favourite sauces and condiments. But the plastic bottles and containers they come in aren't an eco-friendly option. So go the extra mile for your Zero Waste BBQ and whip up your own. There are loads of quick and easy recipes online for making your own burger relish, salsa, guacamole and much more.
Source local produce for the tastiest zero waste BBQ
Get your meat and veggies from a local market or farmer's market. They'll taste better and they won't have been flown thousands of miles so it's a bonus for the environment.
Use greener fuel
Swap the propane, self-lighting charcoal and petroleum-based lighter fluid for more eco-friendly fuel like natural charcoal or lump charcoal.
We hope we've inspired you to challenge yourself to a zero waste BBQ. For more tips and interesting articles, check out the rest of our blog.