Spring Rubbish Roundup: Litter Picking Heroes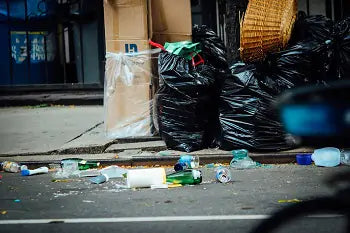 In this Spring rubbish roundup, we travel across the country to meet some of the litter heroes that have gone the extra mile to keep the UK tidy. Litter has long been a problem, but it has worsened since the easing of lockdown. But determined to keep our streets, parks and beauty spots clean, safe and healthy these people have become true litter picking heroes. 
Young Litter Picking Heroes 
We start our Spring roundup in Broadbridge Heath in Horsham. Where 9-year-old Evie Trowbridge has taken on some sponsored litter picks and a five-mile walk to support two charities.
Evie, who wants to be a conservationist when she grows up. Inspired by her grandfather, who is president of the community voluntary service group, the Horsham Lions Club. 
Evie's proud mum said that she decided to do the litter picks while she took part in a discussion at school about how to save animals and protect the environment. She wanted to raise funds for the Horsham Lions and for another local school. She has been successful and raised £315 in two weeks through doing three litter picks and a five-mile walk. Now that's what we call a litter hero! 
The Litter Marathon Man Of Manchester
Next in our spring rubbish roundup, we head to Manchester to meet another one of our litter heroes. Council worker Mark Dale, an environmental improvement manager for Trafford Council, has picked litter along the distance of a marathon! 
He followed the route of the Trafford marathon, taking 10 hours to complete his 26.2 mile litter picking feat. 
Mark took on the challenge as part of Keep Britain Tidy's annual Great British Spring Clean campaign in the wake of a rise in littering and fly-tipping in the borough. Trafford Council increased on the spot fines for littering and fly-tipping. However, only 23 fines were issued despite there being more than 3000 reported incidents in 2019-20. 
By completing his litter picking marathon, Mark hopes that he has encouraged people to bin their litter. He collected 39 bags of rubbish and despite the sore feet, he expressed delight at the result. 
Next on the agenda for the borough is the introduction of more litter initiatives like the Let's Tidy Trafford Together initiative. Let the war on rubbish commence!
Who could forget the litter picking efforts of the Tartan Army?!
Didn't it just give us a warm, fuzzy feeling to see Scottish football fans helping to clean up litter in central London ahead of the match against England?
Supporters wearing kilts, Scotland shirts and yellow lion flags were pictured helping to clean up Leicester Square. Unfortunately, it became covered in plastic bags and drinks bottles. Groups of fans also gathered in Hyde Park and Kings Cross and while their adherence to social distancing rules left a lot to be desired. They showed they were good sports when it came to tidying up after themselves. 
Party animals? Definitely. Litter heroes? Absolutely.
If you'd like to read more tips and interesting articles on all things bin-related, check out the rest of our blog.