Fun Novelty Bins: What are the Options?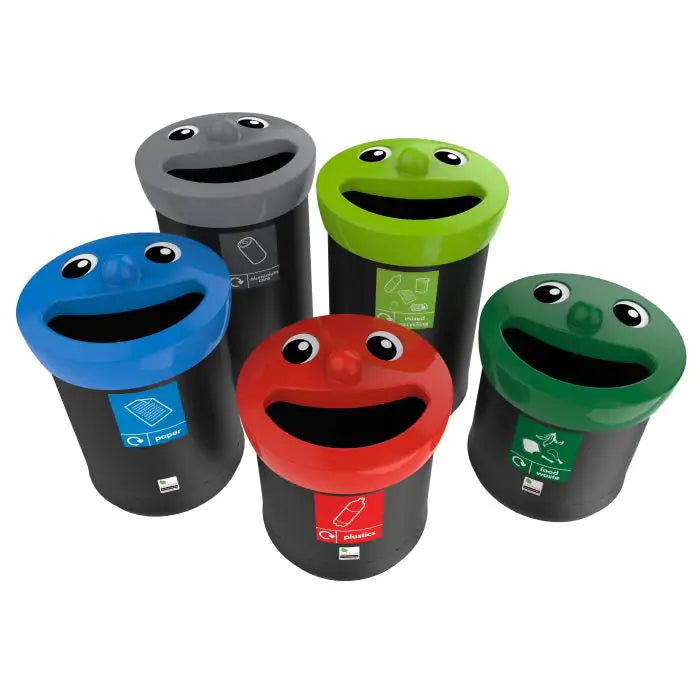 Children are our future as the song goes. If the planet is going to survive for many generations to come, we need to educate them on what they can do to protect it. Litter and recycling are two important things that children and young people can do to prevent pollution. Novelty bins are a fun and educational way to teach them good eco-friendly habits.
Indoor Fun Novelty Bins
Best Buddy Recycling Bin
One of the best ways to make recycling more attractive to children is to make it fun. The Best Buddy Recycling Bin is just the right size for little ones to reach and dispose of recyclables. Its generous 84-litre capacity will keep nurseries, schools, and swimming baths safe and litter-free.
The bin is available in a variety of colours, styles, and designs that children will love. For even more planet-friendly brownie points, the bin is made from recyclable plastics.
Pencil Shaped Recycling Bin
Perfect for schools, these brightly coloured novelty bins are great for encouraging children to recycle. They're easy to clean and maintain, and have a wide aperture so little ones can easily reach. Available in 15 colour options with customisable stickers, this pencil-shaped bin is the perfect way to make protecting the planet fun.
Colourful Mid Recycling Bin
A popular choice for nurseries, schools, colleges, and universities, these colourful recycling bins make recycling easy and fun. Made from durable Polyethylene and easy to clean and maintain, these bins are perfect for even the busiest environment. Choose from 12 colours, choose the recycling stickers you want, and set up your very own recycling station.
Outdoor Fun Novelty Bins
Colourful Blackboard Recycling Bin
This colourful blackboard bin is making recycling cool again. It's great for schools and encouraging young people to adopt more eco-friendly habits. They might walk past a normal recycling bin with their empty drinks can, but we guarantee that they won't walk past this one.  Available in 12 different colours with the recycling sticker of your choice, these bins will complement any outdoor environment.
Animal Kingdom Litter Bins
Who doesn't love animals? Make disposing of litter fun with these super cute animal character bins. Children can choose whether they want to put their litter into one of 9 different animal-shaped bins. From penguins to frogs, pandas, tigers, cats, and mice, these bins aren't just lots of fun, they help keep any environment tidy and child-friendly.
Available in two sizes and made from recyclable plastic, these bins are practical, eco-friendly, and secure. Each bin comes with a lock and key to prevent tampering and unauthorised access.
Looking For Indoor Or Outdoor Novelty Bins?
The best way to make recycling and litter disposal more attractive to children and young people is to make it fun. These novelty bins do this and much more. Whether you want attractive, high-quality bins for indoor or outdoor environments, we've got you covered.
Have questions about our fun novelty bins? Or why not check out our range of Playground Bins. For more interesting articles on litter, bins, and the environment, check out the rest of our blog.