Self-Extinguishing Bins: A Guide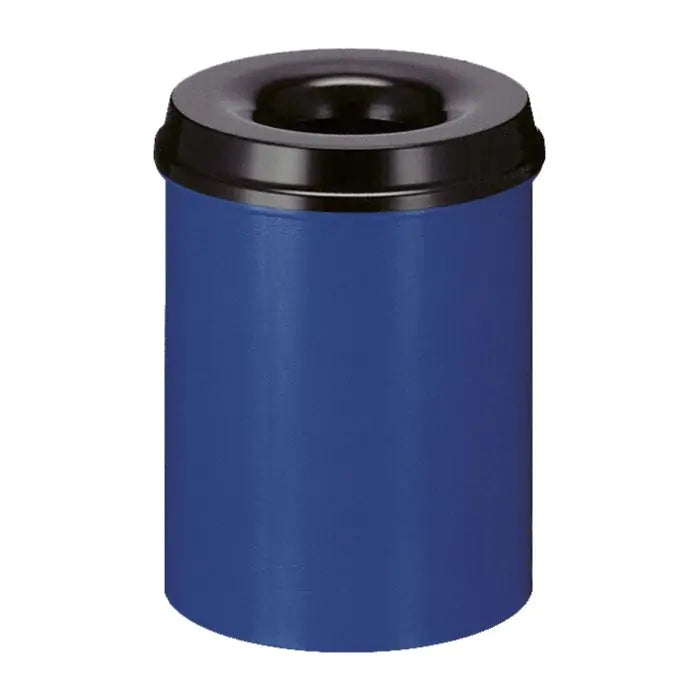 Arson, poor housekeeping, accidents, and carelessness. Just some of the things that can start a bin fire in a workplace or public area. It goes without saying that fires can be destructive and deadly. However, you can minimise the risk with self-extinguishing bins.
What are Self-Extinguishing Bins and How Do They Work?
Self-extinguishing bins are designed to nip a bin fire in the bud. They have a specially designed lid that cuts off oxygen in the event of a fire. Remember the fire triangle? The three components needed for a fire to start and keep burning are fuel, heat, and oxygen. Take any one of these out of the equation, and then a fire will go out.
Concerned About Fire Safety? Here are Some Best Buys
We've got a great range of self-extinguishing bins for workplaces and public areas. Here are some of our best-sellers.
Heavy Duty Self-Extinguishing Waste Bin
Safety should always come first in busy offices or industrial workplaces. Investing in this heavy-duty self-extinguishing bin is a great place to start. Its clever design means that in the event of a fire, oxygen is shut off. This eliminates fire and any danger in seconds.
This bin has integrated handles for easy cleaning and emptying and comes in a choice of two colours.
Self-Extinguishing Waste Paper Bin
Does your business create a lot of waste paper? Fire and paper do not mix, and a bin full of waste paper is a blaze just waiting to happen. Avoid any incidents by investing in a self-extinguishing waste paper bin. 
It's made from tough powder-coated steel and is designed to shut off oxygen in the event of a fire. No oxygen equals no flames.
This bin is wall-mountable so even with its generous capacity, it won't take up too much floor space. Then there's the fact that it comes in a choice of 8 colours so you'll find something that complements your surroundings.
Carro Flame Self-Extinguishing Waste Bin 
Who says safe and practical can't look good? This bin with its modern square design is a perfect choice for offices and any environment which values aesthetics as well as safety.
The bin comes in powder-coated or stainless steel and its unique design cuts off oxygen in the event of a fire. It looks great, it improves safety, and it's non-corrosive and made to last. This bin has it all, and more.
Rubbermaid Smoker's Pole
Are you an employer who provides a designated smoking area? Or do you provide one in a public place? You need to do what you can to reduce the risk of fire.
You may have seen a cigarette bin, but what about a smoker's pole? These clever modern Rubbermaid smoker's poles are made from powder-coated aluminium. They are also weather-resistant, fire retardant, and have a self-extinguishing pillar to reduce the risk of fires.
What Can I Do to Improve Fire Safety?
As well as investing in self-extinguishing bins, businesses should:
Outdoors
Avoid letting waste pile up and compact it if possible so bins aren't overflowing;

Keep fire exits clear of obstructions;

Take steps to prevent unauthorised access to waste storage areas;

Position outdoor bins away from buildings in case of fire;
Indoors
Avoid overloading sockets;

Repair damaged wires or cables;

Make sure all electrical equipment is PAT tested and serviced;

Store combustible or flammable materials properly.
Want to Improve Fire Safety in Your Business or Public Areas?
Fire can be fatal and very destructive. Luckily, there's plenty you can do to reduce the risk of fires breaking out in workplaces and public areas. Investing in self-extinguishing bins and proper cigarette bins is one important way you can improve fire safety. For advice on self-extinguishing bins and help with choosing the best bins for your needs, our friendly sales team are happy to help.