Keep Britain Tidy Launches New Cigarette Litter Campaign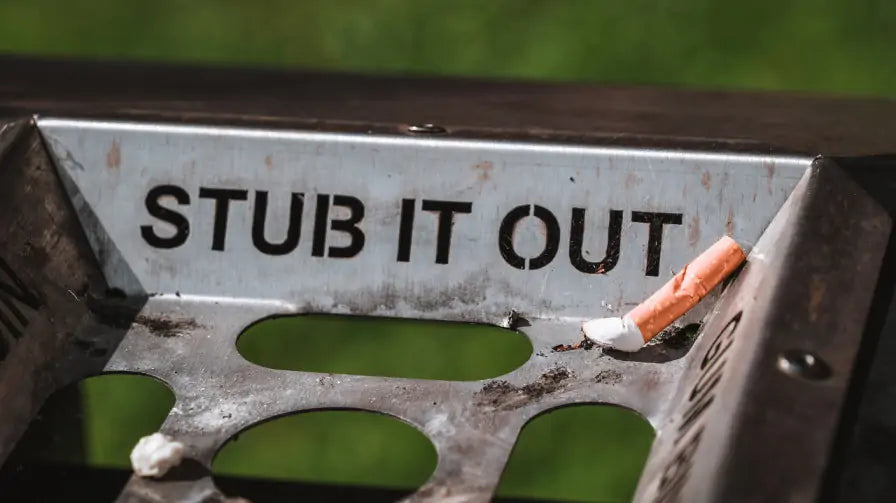 Keep Britain Tidy Launches
New Cigarette Litter Campaign
A new campaign against discarded cigarette butts has been launched by the environmental charity Keep Britain Tidy.
#BanTheButt was launched in Manchester at the end of August, and 40 large cigarette butts have been installed in St Peter's Square to remind people about the impact of smoking-related waste. Campaigners are encouraging people to dispose of their cigarette butts properly, as well as offering them portable ashtrays.
Keep Britain Tidy's most recent survey on the cleanliness of our streets found that littering has increased by 4% since 2014-15, and 79% of the litter consists of discarded cigarette butts.
A Manchester City Councillor commented that most people want to see a city that they can be proud of and that there is no excuse for dropping litter, given that there are 700 bins across the city centre alone. He added that the council won't tolerate people dropping litter and that anyone caught doing so will receive a fine of up to £80.
Cigarette butts are bad news for marine life
But it's not just our streets that are affected by cigarette litter, it's bad news for the marine environment too. Research has shown that just one cigarette butt per litre of water can poison half of the fish that swim in that water. Keep Britain Tidy's research found that only just over half of smokers know that harmful chemicals from cigarettes can end up in waterways when they put them down the drain.
Keep Britain Tidy are attempting to increase the awareness of this, so they've partnered with SEA LIFE Manchester to create an underwater seascape to demonstrate the effects of cigarettes on our seas.
Manchester Aims to become UK's first 'Tidy City'
As well as launching #BinTheButt, Manchester City Council is working with Keep Britain Tidy to make  Manchester the country's first 'Tidy City' by 2020. This is the first time that a national charity has formally joined forces with a UK city. Partners including Metrolink, Manchester Metropolitan University and Manchester City Football Club all attended the launch event back in March to discuss how they could help Manchester become a 'Tidy City.'
One idea being considered is a #StillLittering campaign to address the issue of 'careful littering,' where posters and floor vinyls would be installed to prevent people leaving litter on the ground or on a surface instead of putting it in the bin.
The CEO of Keep Britain Tidy said that in recent years, we've become a society where everything is consumed on the go, and this has resulted in an increase in littering. She added that when you buy something, disposing of the packaging correctly is your responsibility.
The idea behind #BinTheButt is also behind campaigns run by other groups, such as the charity Hubbub, which trialled a transparent ballot bin ashtray for cigarette butts back in 2016. People had to choose between two bins in response to a question like 'who is the best footballer in the world?' This question targeted young men as they are the main group responsible for creating cigarette waste.
Hubbub's Neater Streets campaign was launched in London to test which techniques worked best to change littering behaviour. Three campaigns have also taken place in Leeds, Birmingham and Edinburgh and Hubbub has attracted people's attention with flash mobs, naked bin men and chewing gum art.