Dog Poo Bins: The Full Journey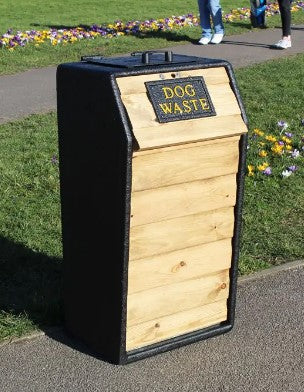 If there's one thing that causes a stink in the UK-literally-it's dog poo. It smells bad and it contains dangerous parasites, so it must be disposed of properly. Here's the lowdown on dog poo bins and what to do with dog waste.
What bin does dog poo go in?
At home
Dog poo must go in your general waste bin. It's not recyclable or compostable thanks to the nasty germs it contains like Salmonella and E. Coli. Make sure you double-bag it to prevent odours or spillage.
Out and about
It goes without saying that you should always pick dog poo up. It not only leaves streets and parks looking unsightly, but it's a health hazard too. If you don't pick it up, you could end up with a fixed penalty notice of up to £100.
Bag dog waste and put it in a dog waste bin if you can. If there are no dog poo bins around, it's fine to put it in a normal waste bin.
How does dog poo not smell in bins?
Dog poo shouldn't make your household waste bin smell if you've double-bagged it. When it comes to special dog waste bins, they have features to keep odours at bay. These include hinged lids, lift-up lids, and one-way chutes.
How often is dog poo collected?
It varies between councils. Some councils empty dog poo bins a few times per day, while others carry out a weekly collection.
What happens to dog poo?
Dog waste is either incinerated or sent to landfill.
Dog poo bins - what are the options?
Dog waste bins are the unsung heroes of the outdoors. They keep streets, parks, and other green spaces safe and clean. Not to mention saving your shoes and carpets when you've trodden in dog poo on a walk!
Our range of dog bins provides maximum hygiene with minimum maintenance needed. Made to last, easy to clean, and easy to empty, these bins are a great investment. There's also a design to suit every environment. We love:
Post Mountable Dog Waste Bin 
This Post Mountable Dog Waste Bin offers dog owners a practical waste disposal solution whether they are in the park or on the high street. Made from tough galvanised steel and with a 10-year anti-perforation warranty, this bin is built to last. Forget about odours or mess-a hinged lid keeps odours at bay and a sack retention system keeps the bin bag in place.
A bin to suit all landscapes, and in eye-catching red and green, dog walkers won't miss the chance to dispose of their pet poo!
Timber Front Dog Waste Bin
The Timber Fronted Dog Waste Bin makes it more aesthetically pleasing than your average dog waste bin. A great choice for parks, forests, and rural areas as it blends in really well with the natural environment. Don't worry about this bin being style over substance. Its glass fibre composite shell will keep it protected from the weather, and a one-way chute prevents odours. Want to see the rest of our high-quality dog poo bins? Take a look at the rest of our range. For more articles on all things litter and the environment, check out the rest of our blog.