How to Reduce Waste in Schools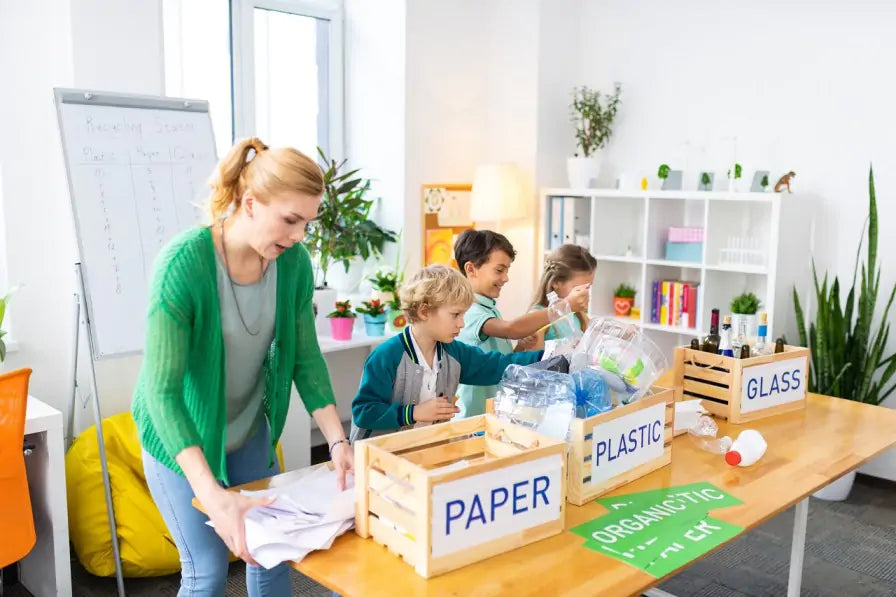 How to Reduce Waste in Schools

It is important to teach children about reducing waste within schools, as they are the future of creating a greener planet. It is significant for them to understand the strategies that need to be put in place to take on duties of waste management and recycling in order to carried out effectively in the long-term. Schools are the best environment in which to teach about the disposal of rubbish; the importance of doing so correctly and the implications that may be caused if the students fail to do so.

It would be beneficial to have a discussion within the classroom about what they think recycling is and how they can reduce rubbish to the best of their ability. It will allow them to think deeper about the subject and take on recycling challenges with their peers.

If you think this would be a great idea for your school; allow the children to be rewarded with stickers or small prizes if they show a willingness to take on duties and show a great deal of interest.

Here are a few waste management ideas for your school:

Lunch

Encourage children to bring waste-free lunch into school, therefore packed in re-usable containers and lunchboxes. Re-usable plastic bottles would be a better option that drinks cartons or throw away bottles. Ask them how much food they throw away each day and whether they could cut down on what their parents pack to avoid unnecessary waste. Food waste takes up approximately  1/3 of the entire waste from each school and rots on landfill which creates methane; a gas which has a severe impact on climate change.

Paper waste
Use a cardboard box where used paper can be thrown in to be recycled. It may be an idea to also have a box for paper that has been used on one side, so that it can be used again for rough drafts and spelling tests for example.
Make sure that students check their work before printing off so that there are no errors that need edited and therefore printed again. Essays are usually very long…which means so much paper will end up wasted.
If you photocopy all of the lesson activities on paper, it may be worth using an interactive whiteboard instead. Then, the whole class can refer to it without having to print off hundreds of sheets of paper that will be used once only.
It may be an idea to send newsletters via email or on the school website, especially if there are hundreds of pupils within the school. Think of the thousands of sheets of paper each month that will be saved from doing so.
If it is absolutely necessary to have a hard paper copy of a classroom plan for example, print on double sides rather than on individual sheets of paper.
If there are old books that are no longer used, it may be an idea to send them to charities so that they can be enjoyed by others rather than being thrown away.
Re-use envelopes by placing stickers over the top of the old addresses.
Ink Cartridges

You may not be aware, but you can re-full old ink cartridges and use them again rather than buying brand new packs. These plastic cartridges take an extremely long time to rot when dumped on landfill sites, therefore cutting down would be highly beneficial.

How about other recyclables?

If there are other recyclables that need disposing of, it may be worth investing in a recycling station for your school to dispose of particular items into the correct bins. For instance, plastic, glass, paper etc. Place these bins where they will be used so that they can't be avoided. If you would like to take a look at recycling stations you can do so here.

Allow the children to take charge

It would be a great idea to let students take charge of specific tasks. You could assign recycling monitors to ensure that all children are recycling correctly. Not only will this give those children a greater understanding of waste management, but may even encourage them to feel passionately about the subject in future.

Within an a Literacy lesson, the focus of the class could be to write letters to the local MP or newspaper about the importance of recycling in the local community and the efforts the school is going to, with the intention of creating a greener planet.

Students could also make a poster or letter for the school's website to keep parents in the loop of their efforts for recycling and waste management.