Top 5 Outdoor Playground Bins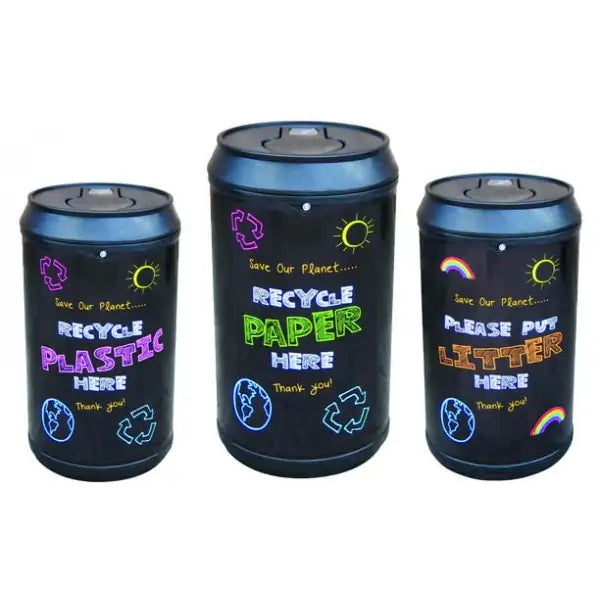 The key to tackling litter and getting people to recycle more is education. Where better to start than with the next generation? Playground bins keep play areas clean and safe, and they encourage good eco-friendly habits. Here are our top 5 playground bins. In 2016, the UK produced 22.8 million tonnes of waste! Meaning that to reverse the damage already caused, we need to teach new generations to be better!
Animal Litter Bins
If you want to encourage children to recycle, making it fun and educational is a great place to start. Now we know fun recycling bins are not always the topic of conversion, but these fit the bill!
Have they been learning about different species in their science or geography classes? They'll love these fun bins that come in 9 different animal shapes from tigers and pandas to frogs and cats. These bins are made from 100% recyclable plastic, have a generous capacity, and are easy to clean.
Colourful Recycling Playground Bin
These playground bins look fun and vibrant. However, more importantly, they take away the recycling confusion. They come in 12 different colours and they're clearly marked with the waste stream you put in them. Get ready to create a recycling station in your playground that no one can miss.
Blackboard Drinks Can Recycling Bin
What says 'school' more than a blackboard? These novelty bins have been designed to look like one. They've got fun, funky graphics and a generous capacity. The perfect way to keep your playground a litter-free zone.
Outdoor Hooded Litter Bin - The Essential Playground Bin
Looking for bins for your comprehensive school? These playground bins don't just look smart, they are also tamper-proof. Available in a choice of attractive colours to complement your surroundings. These bins have been UV tested so they'll stand the test of time. A stylish choice when you want to keep your school grounds free from the blight of litter. This bin is by far and away the most popular UK playground bin.
Jumbo Litter Bin
Are you in charge of a busy school? You need more than a bin that looks the part. You need one that's practical too. This jumbo litter bin has a very generous 150-litre capacity. That means it won't need constant emptying.  It also more than meets the challenge of encouraging kids to dispose of litter. It's available in 5 colours and there's the option to add on extras depending on what you need. Want a plastic liner? A fixing bolt? No problem. Just add what you need to create the perfect bin for your playground.
There are over 32,000 schools in the UK. This makes them perfectly placed to make a difference when it comes to tackling litter and improving recycling rates. When you encourage children to adopt eco-friendly habits at school, they might just keep it up at home. For more interesting articles on all things litter bins and the environment, check out the rest of our blog.