What Was Thrown Away Most In 2022?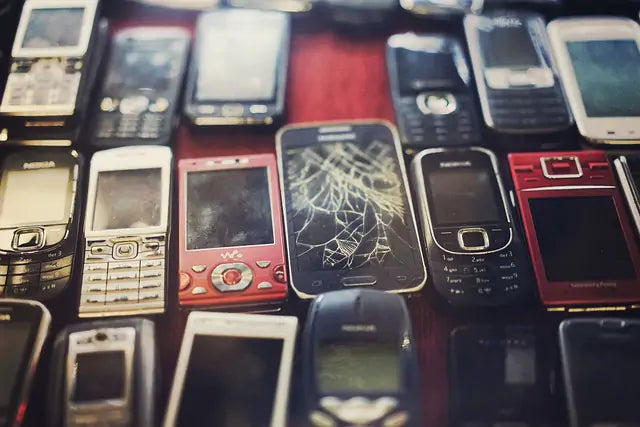 We're used to seeing the headlines about the mountains of plastic waste and the ever-growing litter problem. But what was actually thrown away most in 2022?
What Was Thrown Away Most Winner Is…Mobile Phones
According to the international waste electrical and electronic equipment (WEEE) forum, 5.3 billion handsets will end up in landfill this year. That figure is an estimate based on global data. However, it's not just mobile phones that are creating a waste problem.
Other items of electronic waste like washing machines, toasters, and tablets are the fastest growing waste stream across the globe. Just over 17% of e-waste is recycled. The rest gathers dust in homes and garages or it's dumped on landfill sites. The WEEE forum predicts that there'll be a whopping 74 million tonnes of e-waste dumped on landfill sites across the globe by 2030.
It's not just a waste problem that's caused by what was thrown away most in 2022. E-waste contains harmful substances like cadmium and lithium which leach into groundwater, causing pollution. Not to mention harming the health of anyone who comes into contact with the waste when it's dumped.
The Problem with Hoarding E-Waste
If you don't throw your old electronics away, the chances are you probably hoard them. We're thinking of that drawer with four old mobile handsets in. Or the boxes in the garage with the old computer monitors and a printer in them. Research by UK consumer group Consumer Focus found 11% of respondents had at least five old handsets at home. You might say to yourself 'well at least they're not in landfill'. That's true, but letting your e-waste gather dust creates problems of its own.
Firstly, just like throwing old electronics away, hoarding them wastes precious resources. Most electronics contain precious metals like copper, cobalt, silver, gold, platinum, and palladium. If you don't recycle them, they are lost forever. They could have been put to good use in new electronic items like car batteries and new appliances. Mining for new metals takes its toll on the planet and metal shortages have worsened since the start of the Ukraine war. 
Secondly, you could have a small fortune lying around your home that's going to waste. Just think of what those old handsets might fetch if recycle them for cash. According to Mazuma Mobile, people who sell phones to recycling services receive an average of £65. Some handsets could be worth as much as £200.
What Can I do About E-Waste?
Don't want to contribute to the final stats on what was thrown away most in 2022? There are things you can do. The Recycle Your Electricals campaign has a great website where you can find everything you need to know about how to deal with e-waste.
There's a section on what to do with your electrical waste (hint: it's repaired, donate, sell, or recycle it). There's also a handy tool where you can find your nearest electrical waste recycling point.
If you've got electronics lying around, why not make 2023 the year you finally have a good clear-out? Recycle them or find them a new home and save some of the planet's precious resources from landfill! For more interesting articles on waste, recycling, and sustainable living, check out the rest of our blog.