Best 10 Parks in the UK to Enjoy Post Lockdown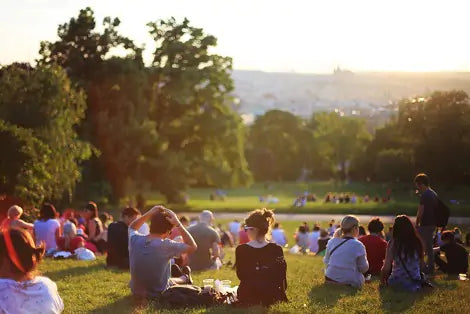 Our parks and green spaces were something that many of us took for granted before the lockdowns. But during the past year, they have represented freedom. An escape from the four walls, and a chance to exercise or sit and relax out in the fresh air. We are so lucky in the UK to have some amazing green spaces. Here's our guide to the best UK parks to enjoy post lockdown.
The Best English Parks
This beautiful space dates back to the 1600s when King Charles built a deer park for hunting. Now the 1,000 hectares of rolling hills and trails are public property. They are popular with cyclists, walkers, and people looking for a tranquil spot to relax in the bustling city.
Opened in 1825, Pittville Park is the largest ornamental park in Cheltenham. It contains the historic Grade 1 listed Pittville Pump Room and two lakes. As you'd expect from one of the best in the UK, there's plenty to see and do. The park is divided into two. In one part, you'll find the Pump Room, a children's play area and aviaries where kids can spot some cute birds and bunnies. The other section has a large lake where you can fish as well as tennis courts, a golf course and a skate and BMX park. You can even hire a boat for a relaxing punt down the lake.
Saltwell is a lovely Victorian park in the heart of the northeast of England. It has won the Green Flag, Britain's Best Park and the Keep Britain Tidy ' People's Choice' award in 2018. It's the only one in the North to have won the award. Its gorgeous grounds contain a maze, pets' corner, play area, bowling green, and plenty of walking trails for the family to enjoy.
Birkenhead Park was designed by the gardener Joseph Paxton who designed the 'Crystal Palace' which was originally in Hyde Park. Its beautiful ornamental boathouse, bridges, and winding paths make it a true urban haven for residents and visitors.
This Grade II-listed park opened in 1926 and it offers a bit of tranquillity away from the hustle and bustle of the popular seafront. Set up with four zones. The north and west contain formal gardens. The eastern part has a lake and woodland area. The south has play areas and sports facilities. The park gets 2 million visitors each year and it's no surprise that it's considered one of the best UK parks. From its art deco features to its ornamental bridges and rose gardens, there's something to impress everyone. 
Okay, this isn't technically a park, but we had to mention it because it's such an awesome space for kids to explore. They can spot loads of different varieties of trees, bluebells, wildlife and insects. Squirrels, rabbits, foxes, bats, and butterflies are all common here.
If you're a history buff, keep an eye out for ancient coins and pottery. People have found items from the bronze age here!
Originally it belonged to noble families but the borough council bought the land in 1894. What makes it one of the best is that it has something for everyone. Tranquil areas to sit and wander around in, check. Tennis courts and a bowling green for people who want to get active, check. Arboretums to inspire gardeners, check. A wildlife habitat, check. It is also the setting for many of the town's cultural events including The Ipswich Carnival, The Ipswich Flower Show, and The Ipswich Music Festival.
Best Park in Wales
If you like your parks a little more rugged, Coed Y Brenin is the place for you. It's 1,600 acres of walking and biking trails, waterfalls, and jaw-dropping views over the forest. There's not much vehicle access here, it's meant for people who want to be in touch with nature. Ultimately that is what they are all about. We definitely recommend checking this one out.
Best Park in Scotland
Holyrood Park is only a short distance from Old Edinburgh town, but you'll feel like you're in the middle of nowhere. Its crags, cliffs, and rocks make it feel like you're in the wilderness. An hour-long hike leads you to the highlight-a panoramic view of Edinburgh. This stunning view alone is what makes Holyrood one of the best in the UK.
Best Park in Northern Ireland
Last but definitely not least, this park in Northern Ireland is a mecca for active families. There's an adventure trail with swinging steps, balance beams, and all sorts of features the kids (and you) will love. There are also plenty of walking and cycling routes as well as multisports areas. They'll all sleep after a day out here, we promise!
We hope we have inspired you to get out and enjoy some of the best UK beauty spots as restrictions (and the weather) allow.
If you'd like more tips and interesting articles, check out the rest of our blog.